Jul 5 2017 12999 1
Summer Comfort & Energy Tips
It's finally summer here in Las Vegas! As tempting as it must be to switch on the A/C and go about your business, there are a few easy things you can do to be more comfortable and energy efficient during the hot summer season.
Wear light clothing and use lightweight cotton bedding. While a ceiling or floor fan won't actually cool the air, the movement of the air can make you feel up to 8* cooler, so use your fan as a compliment to your A/C. Don't forget to set your ceiling fan to rotate counter-clockwise so cool air is pushed toward the floor. Fans work great in outdoor spaces, too!
Set your thermostat at the highest setting to keep yourself comfortable. Centralhtg.com says; "It is estimated that for every degree higher you set your thermostat over 78 degrees Fahrenheit in the summer months, you could save approximately six to eight percent off your home energy bill, per degree."
Use a programmable thermostat to raise temperature while you are not home. Contrary to popular belief, it is not easier for your thermostat to maintain the same temperature through the day. Program the thermostat 5-8* warmer while you are away, then set to your comfort level while at home. Setting the thermostat extra low to cool more quickly doesn't work, either! Shop for programmable thermostats on HomeDepot.com.
Be kind to your A/C! Schedule routine maintenance for your unit before temperatures get too warm, and change internal filters often. You can also help your A/C unit stay cooler by planting shade-providing trees and plants around the unit.
Apply sun reducing film on the windows, shades or screens on the south and west side of your house to keep the direct sun from reaching the windows. Also, don't cool unused rooms. Close blinds, vents, and doors in rooms that aren't occupied daily so you aren't paying to cool the unused space.
Focus on reducing heat inside your home. Save hot water activities (showers, dishwashing, laundry) for the early morning or late evening hours and cook outside whenever possible.
Finally, the US Department of energy has great resources and ideas on their website. Check it out!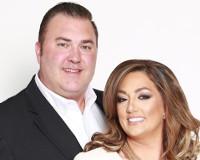 Author:
John and Ashley Lazosky
Phone:
702-281-1198
Dated:
July 5th 2017
Views:
205
About John and Ashley: We are the Broker/Owners of Vegas Homes and Fine Estates. We are proud to say we have a combined 22...